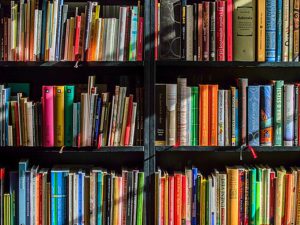 We all have our favorites: dog-eared copies of books that we read over and over again. I had favorite books as a child, and you probably did, too. When I was at an age before I could read, the stories that I couldn't get enough of included Harold and the Purple Crayon, The Pokey Little Puppy, and anything illustrated by Brian Wildsmith, the award-winning British artist. He used brilliant colors in his illustrations, and to this day, I am STILL drawn to color.
Even though I am not a visual artist, I can't get enough of color. I am forever trying to convince art directors at Marquette to add some orange to the palette and my poor, long-suffering husband to allow me to paint our walls brilliant shades of purple, green, and blue. So far, he is winning, but we once came close to buying a plush purple sofa together, so I am making progress!
My love for color aside, there are any number of reasons why we are drawn to books. As an adult, I am moved by novels with a great story, a glimpse into another kind of life I wouldn't ordinarily get to experience, and, of course, brilliant writing. While it is always fun to discover new authors, each summer, I revisit a series of my favorite books. I find comfort in re-reading them, discovering new insights about the characters, and analyzing the novels to figure out what makes them so darn good. I read them for enjoyment and again as an observer so that I can learn from my favorite writers and apply my learnings to my own novels.
I am going to tell you today about the books I love to re-read, but I also want to hear about the books you can't stop reading. Write to me in the comments, and I'll be sure to add them to my reading list!
Back When We Were Grownups by Anne Tyler
Anne Tyler is, one of my favorite novelists. I have read almost all of her novels, except for the first two because I read in an interview that she doesn't like them. Out of all the books Tyler has written, Back When We Were Grownups is my absolute favorite. I've read it so many times that I wore out my original copy and had to buy a new one recently so that I could re-read it again this summer.
Each time I read Back When We Were Grownups, I ask myself why I like it so much. Over the years, I have concluded that the main character, Rebecca Davitch, is a truly likable person, and there are details about her that Tyler peppers in skillfully that endear her to me: her social abilities, how she tends to the emotional needs of her difficult but loyal family, and the grace with which she handled her husband's death when she was just 26 years old and had a daughter plus three step-daughters to care for and a business to run. So, that is the first reason: I like Rebecca Davitch as a person.
In addition, the way Tyler writes about mourning is exquisite. Here is the heroine, nearly 30 years after her husband's death, and she finds herself missing him all over again after attempting to re-connect with an ex-boyfriend from her college years. She sees that her husband helped her escape a life in which she really had nothing to look forward to.
And finally, Tyler explores the idea of repeating the past and shows, through this slice-of-life novel of a professional party planner, why it's impossible to go backwards. The relationship with her college boyfriend ended for good reasons, and even though Rebecca misses her husband, she has a newfound appreciation for the life that she chose.
Montana 1948 by Larry Watson
If you enjoy stories about siblings and family drama, then Montana 1948 is a great read. If the #meToo movement and the recent sex abuse scandals that have since come to light are also topics that you care about, then you will find plenty to revere in this novella.
Told from the perspective of the 11-year-old protagonist David Hayden, the book follows his father's impossible position of the need to be loyal to his family and hold his brother accountable for taking advantage of his position as the town's doctor to sexually molest young Native American girls.
As the town's sheriff, Wesley Hayden, David's father, must investigate the allegations against his brother that were brought forth by their housekeeper, Marie Little Soldier, who tells David's mother of his abuse against Native American girls. Wesley's brother, Frank Hayden, is the favorite son, the town doctor, and a decorated war hero. Wesley knows that bringing forth allegations of sexual misconduct against his brother will have grave and irreversible consequences for him and his family.
Montana 1948 was published in 1993, and I first read it first as an undergraduate college student. Considering the recent conviction Larry Nasser, who likewise took advantage of his position as the USA Gymnastics team doctor to sexually abuse his patients, the book is now more relevant than ever.
The Age of Innocence by Edith Wharton
If Montana 1948 is a punch to the gut, The Age of Innocence is a cocktail party with fine wine and cheese. Published originally as a magazine serial in 1920, it won the Pulitzer Prize for fiction in 1921, making Wharton the first woman to achieve this distinction. By the time Wharton published this novel—her twelfth—she was already an established writer and author.
Set in the pre-World War I years of the 1870's, The Age of Innocence explores upper-class New York, a world in which Wharton found herself deeply entrenched and thwarted by societal expectations. Wharton's novel is a story about an affair and two people who very much want to be together but cannot. Told from a male protagonist's point of view, Newland Archer, a well-to-do lawyer, is engaged to May Welland. He is happy about his imminent marriage to May until he meets and falls for her cousin, Countess Ellen Olenska. Ellen has separated from her husband, a Polish Count, during a time when separation and divorce were condemned, especially in upper-class New York. Already the subject of rumors, associating himself romantically with the Countess would have been social and career suicide for Newland.
He tries to forget about the Countess and focus on his marriage to May, but Newland loses his zest for life and no longer wishes to make his loveless marriage work. He and Ellen begin an affair, and he resolves to leave May and follow Ellen to Europe. May, however, has learned of the affair and discloses to Newland that she is pregnant with the first child. Rather than abandon his family, Newland stays in New York with May.
Many of Wharton's novels concern unrequited love. While we live in an era of Hollywood happy endings, Wharton's novels are a strong reminder that life does not always work out or go according to plan. Wharton's characters find themselves trapped by social mores and unable to pursue the lives they want to live. If you've ever suffered a heartbreak or are suffering through one now, you might find comfort in this novel. I know I did when I first read it, and I still enjoy reading it, thanks to Wharton's realistic pictorial of the 1870's. Wharton also infuses her novel with delicious details and writes in an absolutely exquisite manner. The Age of Innocence is a gift, and I hope you enjoy it as much as I do.
Are There Books You Can't Stop Reading?
I hope I've given you some summer reading ideas for when you're lounging on the beach, reading on your patio or for reading inside with the comforts of air conditioning if you live in a hot climate.
And now, it's your turn: I have one month before school starts up again and am looking for a few reading ideas! Write to me in the comments and tell me about the books you love.